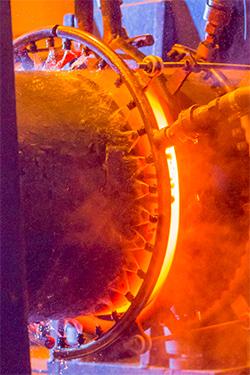 Proclad has transformed its Induction Pipe Bending capabilities thanks to a major investment in its manufacturing process which will see the full bending process automated to improve quality, repeatability and control.
The investment sees the company continue to develop its investment in its Intelli-Bend system which was originally designed to constantly measure key performance variables such as feed, speed and temperature, throughout the bending process, recording them on datalogging technology and presenting them on a computerised dashboard.
Proclad's Intelli-Bend 2.0 Automatic Temperature Control (ATC) system now offers full automation of the pipe bending process to be one of the few companies in the world to be able to guarantee 100% repeatability and quality control
The investment will see the Intelli-Bend 2.0 ATC being installed across 80% of Proclad's pipe bending equipment to provide absolute precision and quality control on every item going through the facility.
Proclad Induction Bending's General Manager, Archie Skinner, commented "We received fantastic feedback regarding our original Intelli-Bend Solution from clients around the world who were able to demonstrate the quality of the pipes being installed, whilst having complete peace of mind in their ability to withstand even the most rigorous demands."
He continued, "However, this latest investment really takes our Induction Pipe Bending solution to the next level and offer a service which takes virtually all of the reliance on human intervention out of the system. This level of automation transforms our performance levels and provides a level of accuracy and quality that the customers are now looking for."
Click here for more information on the full range of Induction Pipe Bending Solutions available from Proclad Group as well as their Intelli-Bend solution.
Induction Pipe Bending