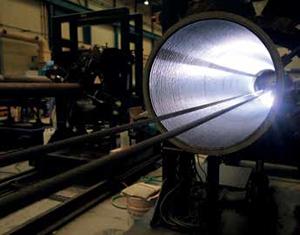 Proclad has completed a major investment in its Dubai Technopark facility which has tripled the manufacturing capacity for alloy weld clad overlay line pipes.
The decision was driven by a growing global demand for corrosion resistant alloy clad line pipes and Proclad's commitment to delivering the world's leading service in terms of quality and lead times.
The investment in state of the art technology has transformed the travel speeds, and the deposition rates, to improve production schedules and outputs.
However, the investment also enhances the quality of Proclad's weld clad process by reducing the lower base heat input which ensures they can meet the most stringent of Iron Dilution rates.
Additionally, the new technology enables Proclad to extend their weld cladding capabilities to include thinner base materials as low as 8mm thick, whilst still retaining the quality and required low iron dilution.
Proclad's CEO, Yaseen Jaffer, commented "We are continually looking at new ways to improve the quality of every aspect of our service range. However, thanks to our position as one of the world's leading suppliers of weld clad overlay solutions, we are delighted to push the boundaries even further."
He continued, "This latest investment was essentially driven by sustained growth in customer demand and whilst increased production speed was one of the objectives, our primary focus has always been to improve the quality of our service."
Click here to find out more about our weld cladding solutions or contact us now to discuss your requirements
Weld Clad Overlay