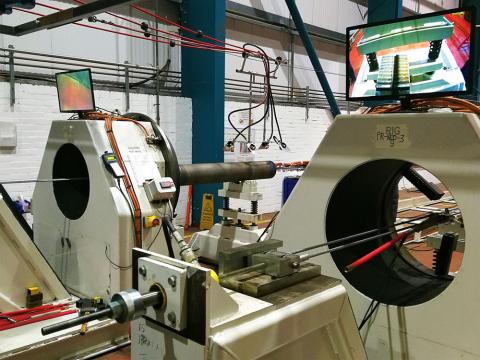 FTV Proclad International has officially unveiled its £2million investment in state-of-the-art welding rigs as the company continues its growth plans to provide additional production capacity and create an additional 10 jobs.
The company, which is celebrating its 45th year in business, has been one of the world's leading players in the specialist weld cladding sector thanks to its ground-breaking approach and extensive industry experience.
The £2million investment in three new custom designed high-tech dual tungsten weld cladding rigs, will double the capacity at the firm's Glenrothes headquarters, whilst enabling the specialist engineering solutions provider to expand its capabilities and improve quality.
FTV Proclad International's in-house research and development team has been heavily involved in designing the specific dual tungsten heads used in the welding rigs, to ensure they met the rigorous specifications and quality standards the company is renowned for.
Explaining the new technology, FTV Proclad International's General Manager, John Butchart, said, "FTV Proclad International has had an excellent reputation in the engineering sector as one of the best in the business. We are now looking to build on our current position with a combination of new technology and our experienced team of experts."
He continued, "The custom designed weld cladding equipment allows us to double the deposition rates, which speeds up the cladding process.  And, thanks to the input of our experienced design team, the process also produces a higher quality finish to the inside of the pipes. This improves flow rates through the pipes for our clients which improves performance of the finished product."
John added, "The current market conditions presented by the COVID-19 pandemic are challenging for all companies, however the conclusion of this investment demonstrates the strength of FTV Proclad International and signifies our commitment to growth that will see us through the next 45 years."
For more information on the full range of solutions, visit www.procladgroup.com.
Weld Clad Overlay
Weld Clad Overlay